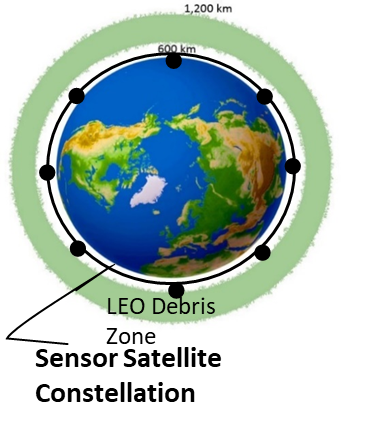 Ground-based and space-based sensors are currently inadequate to properly protect our national security space (NSS) assets as well as civil and commercial spacecraft. Launchspace completed a very well-received study for the Space Force where our proposed sensor constellation resolves capability gaps for space domain awareness:
1. The ability to track resident space objects (RSOs) as small as CubeSat size threats in GEO from our equatorial LEO constellation.
2. The ability to resolve the 3 types of solar blindness (solar glare, eclipse and spacecraft self-shadowing near the sun vector).
3. The ability to detect and track the dangerous GEO crossing objects as well as RSOs in geosynchronous transfer orbit (GTO) and cislunar space.
In low Earth orbit (LEO), Launchspace believes its space domain awareness solution will detect RSOs down to smaller size than is currently possible from ground-based solutions and track them with constant custody.
Our sensor spacecraft solution offers a full 4pi steradian space domain awareness solution for LEO, GEO and cislunar space that will detect and track threats from adversaries, spacecraft and orbital debris.
Launchspace proposed sensor spacecraft solution: 24 – 26 sensor spacecraft
To learn more about Launchspace and consider participating in our vision, please go to our Offering page on Netcapital: https://netcapital.com/companies/launchspace-technologies-corporation